About Us | The Guides of Flambeau Forest Outfitters
 Jake Nelson
I am a muskie, ruffed grouse, bear, and turkey hunting fanatic. I have been a guide for 17 years and am lucky enough to share some of my experiences with people from all over the country. I have written outdoor articles, been on outdoor tv and radio shows and loved every second of it.
I would like to thank everyone that has been a sponsor or friend in the past for supporting these great adventures.
Growing up in central Minnesota and Northern Wisconsin I have been lucky enough to experience so many great things involving the outdoors.
I have fished in three different countries and hunted or fished in 20 different states.
This led to a big decision in early 2003. My wife Angie and I decided to move to the great Northwoods of Wisconsin. Angie and I purchased the legendary Flambeau Forest Inn in 2003. We ran the Inn and guide service successfully for many years.
But in 2012, we decided to sell the Flambeau Forest Inn so that I could focus on the outdoors and become a full time guide.
I take great pleasure helping my clients succeed in their outdoor adventures. I have a vast knowledge of the various species in Wisconsin and love to educate and share information.
Booking a trip with me or any of our well accomplished guides will truly be an adventure of a lifetime. I hope to see you soon.
 Jim Komar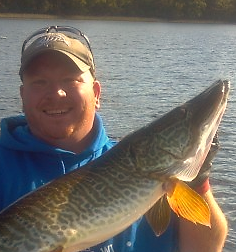 I grew up learning to fish and hunt with my family in the Phillips area, as well as my home waters of southeast Wisconsin. This passion led to competitive muskie angling over the last 20 years.
I have fished all over the Midwest and Canada for many species. It seems that I use my vacation time to go someplace cold and surrounded with pine trees, while everyone else is heading south for sun, palm trees and fun.
I bring this experience to the guiding team, but also offer guided muskie trips on famous Pewaukee Lake, 20 minutes outside of Milwaukee. I am extremely familiar with several other waters in Waukesha County, as well.
But in the fall, I migrate north and focus my time at Flambeau Forest Outfitters. I'll help show you what fall in northern Wisconsin is really all about. One of my favorite trips is a Cast and Blast guided trip.
As with all the members of the FFO team, it is my goal to share my experience in finding muskies and grouse. You'll leave not only having enjoyed your trip, but hopefully learned something new.
I have written outdoor articles, and every now and then, fill in as a guest host on Milwaukee area's Cutting Edge Outdoors Radio, WSSP AM 1250, which I encourage you to check out Saturday mornings from 6am-8am via streaming internet.
Associate FFO Guides
Ben "Meat Stick" Imhoff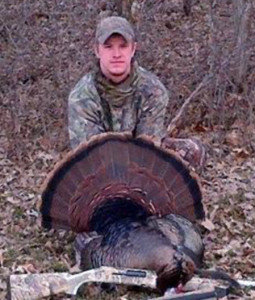 Ben Imhoff is a versatile all around hunting and fishing expert. He is the turkey expert of Flambeau Forest Outfitters. He learned his skills in the original turkey area of Southwest Wisconsin and is truly an expert in his field.
He outsmarts the smartest every year. Up North Ben is also your go-to-guide for navigating the Flambeau River. He can guide you from pool to pool, chasing smallmouth and muskie in these scenic waters. If you are a fly fisherman, Ben is your man.
Ben is also an accomplished waterfowl hunter and specializes in field hunting geese.
Mark "Grousebuster" Rodgers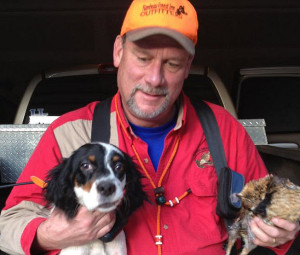 Mark Rodgers started Grousebusters Kennels raising some of the best English Setters in the country.
Mark also guides in Northern Wisconsin for grouse as part of the Flambeau Forest Outfitters team.
Mark's guidance has led to the FFO from not only breeding dogs, but training them as well.
 Stretch
Stretch has 16 years of dedicated muskie fishing experience on Pewaukee Lake, as well as muskie waters throughout the State of Wisconsin, Minnesota and Ontario. He also have spent 10 years fishing the Wisconsin Pro Muskie Tour and numerous independent tournaments.
He runs my own guide service out of Southeastern Wisconsin called Stretch's Muskie Guide Service on Pewaukee Lake. He owns a Tournament Series Lund Pro-V Magnum deep V fishing boat, powered by Mercury and can provide all of the latest muskie fishing gear, if clients choose not to bring their own. Your day on the water with Stretch will be exciting and rewarding.