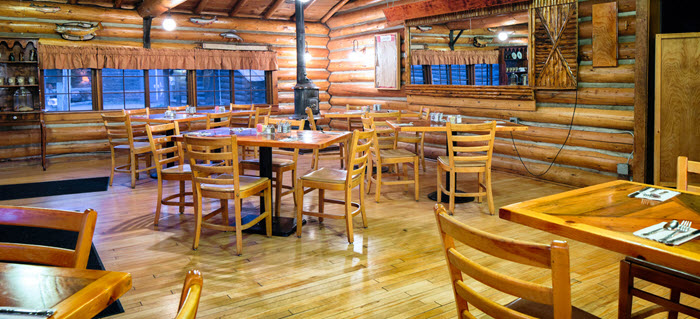 Lodging and restaurants abound in the Phillips area. We would more than happy to arrange accommodations for you while you are here for your hunting or fishing experience.
Depending on you're the size of your group, we have several options including multiple private cabins that are fully equipped for cooking and sleeping. Some can accommodate up to 12 adults. Please contact us for more information regarding cabin rentals.
In addition, below is a list of recommended locations to stay.
Flambeau Forest Inn
W980 County Road W
Winter, WI 54896
715-322-5405
http://www.flambeauforestinn.net/
The Timber Inn Motel
606 S Lake Ave
Phillips, WI 54555
715-339-3071
Birch Island Resort
N8221 E Wilson Flowage Rd
Phillips, WI 54555
715-339-3151
http://www.birchislandresortllc.com
North Way Motor Lodge
1113 4th Ave S
Park Falls, WI 54552
715-762-2406
Dining
Flambeau Forest Outfitters is happy to provide snacks and beverages by request during your hunting and fishing trips. Some guide packages include lunch. Please contact us for details.
Whether you are seeking a hearty breakfast, or a succulent prime rib dinner, the Price County area has some great dining options at very affordable prices.
After a great, action packed day in the outdoors, relax, unwind and have a great meal!
The Freight House
285 S Lake Ave
Phillips, WI 54555
715-339-3744
Birch Island Resort
N8221 E Wilson Flowage Rd
Phillips, WI 54555
715-339-3151
http://www.birchislandresortllc.com
Harbor View
1094 N Lake St
Phillips, WI 54555
715-339-2626
http://www.harborviewonline.com
Flambeau Forest Inn
W980 County Road W
Winter, WI 54896
715-322-5405
http://www.flambeauforestinn.net
Red's Big Bear Lodge
W Co Road West
Winter, WI 54896
715-332-5521
http://www.redsbigbearlodge.com
The Northwoods Supper Club
Flambeau Avenue
Fifield, WI 54524
715-762-4447